ItalianCarParts.Com
22220 Salamo Road, Unit/Box 515, West Linn, Oregon 97068 USA
Telephone: 503.655.9811
Home On-line Catalog Order Form Contact Us
---
K&N Air Filters
Alfa Romeo Models
Link to our Secure Order Form at the end of the page.
---
K&N Air Filters, The Air Filter with a One Million Mile Warranty!
The filter you buy only once, clean it and re-oil it again and again!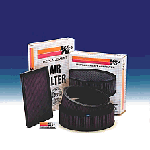 More airflow means more horsepower! An engines power output is proportional to the volume of air it can ingest at any given rpm. The slightest restriction in the air induction system will cause an engine's optimum power output to drop. Maintaining optimum airflow becomes a problem when the air must pass through a filter element. Conventional paper filters are resistant to air flow because the filter material is very dense. The greater the restriction the greater the power loss. K&N Air filters are a true design breakthrough in air filtration technology and can actually double air flow, add horsepower and increase fuel efficiency.
K&N Air Filters for Alfa Romeo Models
Make, Model, Engine

Year

Model #

Price

Alfa Romeo
164, L, LS, S
1991-95
AR2645
$89.95
Alfetta - L4, 1.6L
Alfetta - L4, 2.0L
1975-82
1981
AR2507
AR2508
$89.95
$89.95
Giuletta
All
AR2508
$89.95
GTV
GTV-6, all 2.5L
1981-on
1981-87
AR2508
AR2545
$89.95
$89.95
Spider, 2.0 & 3.0, flat panel filter
Veloce
Sprint
All
1978
1983-on
AR2546
AR2510
AR2501
$89.95
$89.95
$89.95
K&N Recharge Air Filter Care Service Kit
Recharge Kit: Includes instructions, 6.5 oz. Oil and 12 oz. Cleaner: #99-5000 $24.75 kit
Click To Place Your ORDER!


Click To Return To The ItalianCarParts.Com Homepage!
All prices are in US Dollars.
Price and product availability is subject to change without notice.