ItalianCarParts.Com
22220 Salamo Road, Unit/Box 515, West Linn, Oregon 97068 USA
Telephone: 503.655.9811
Home On-line Catalog Order Form Contact Us
---
Link to our Secure Order Form at the end of the page.
Lancia Models
Brake System Components
CLICK HERE for Brake Accessories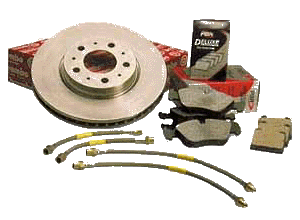 Our pads are the finest semi-metallic pads available, combining top-rated performance with a long service life. The exclusive friction material, which is 60% metallic combines extra fine soft steel wire with powdered sponge iron and silver virgin graphite for maximum heat transfer and smooth, quiet performance. Runs virtually dust-free!
Our international Brake Discs & Drums are your Guarantee of Superior Performance. Each disc provides these quality features: Uniform hardness throughout the casting to insure long service life that resist scoring, exact parallel inner & outer surfaces mate the pads to the disc to reduce pad vibration, a super micro finish to avoid squealing and a heat dam that keeps heat out of the hub area.
Make & Model

Year

Front Pad #
Set Price

Rear Pad #
Set Price

Front Disc #
Price ea

Rear Disc #
Price ea

Lancia: Scorpion
1976-79
102.00541
$79.95
102.00710
$79.95
6443010
$179.95
6443010
$179.95
Beta, Zagato
1976-82
102.90020
$79.95
220.2201
$89.95
Flaminia, Flavia, Fulvia
1962-70
102.00230
$79.95
102.00230
$79.95
Optional Cross Drilled Brake Rotors: #SPCDR001 $79.95 per rotor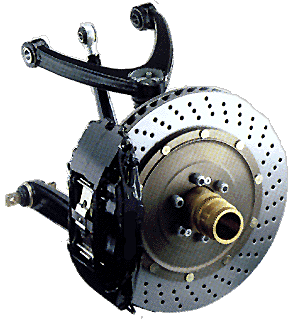 Very few European car manufacturers cross-drill disc brakes. We can have any rotor cross-drilled. HORSEPOWER & BRAKES GO "HAND IN HAND" Cross drilled discs will provide 40% better cooling, 20% better stopping, operate better in wet weather, lower brake temperatures, reduce rotor warpage with less fade and longer life. Although brakes do need heat to work, too much heat will lessen the ability of the pad to grab the disc. Cross-drilled rotors have holes machined and radiused into the face of the rotor. Machined in a pattern that enhances air flow, but at the same time does not affect the structural integrity of the rotor. Even though the surface area has been slightly decreased, cross-drilling adds a cooling effect that increases stopping ability by reducing the heat-induced fade that occurs when brakes are used frequently or at high speeds. Lower heat temperature means less warpage, which will lengthen the life and durability of the rotor. Wet weather performance is enhanced by pushing water through the holes rather than waiting for the water to dissipate from the heat the brake generates. Note: Cross drilling will add 7 to 10 business days to the delivery of your rotor order.

* NOTE: Pad sensors not included
Go to the "Rebuilt Parts" section of our website for brake calipers.
Go to the "Parts" or "Rebuilt Parts" sections of our website for brake boosters.
Click To Place Your ORDER!


Click To Return To The ItalianCarParts.Com Homepage!
All prices are in US Dollars.
Price and product availability is subject to change without notice.